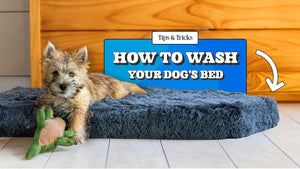 How To Wash a Dog Bed and Tips To Keep It Clean!
Is your pooch's bed starting to smell like a dog-gone disaster zone? Well, it's time to roll up your sleeves and fetch some cleaning tips! We all know our pups love to snuggle in their cosy dog beds, but these trusty resting spots can quickly turn into a haven for dirt, dander, and odours. In this article, we'll dig deep into the world of dog beds and spill the kibble on how to wash a dog bed like a pro. Get ready to make laundry day a 'pawsitive' experience for both you and your furry friend.
Vacuum the Bed 
To give your pup a clean and comfy place to rest, vacuuming is the crucial first step in dog bed maintenance. Regular vacuuming removes fur, dirt, and dander, making the bed fresher and allergy-friendly. If you're wondering how to clean a dog bed with a vacuum, follow these simple steps:
Prep the area: Remove any toys or blankets from the dog bed so it's clear for vacuuming.
Choose the right attachment: Use the upholstery or brush attachment on your vacuum cleaner. This ensures gentle yet effective cleaning without damaging the bed.
Vacuum thoroughly: Go over the entire bed, focusing on seams, crevices, and corners.
Empty the vacuum: Afterward, empty the vacuum canister or replace the bag to prevent allergens from escaping.
Remove the Cover 
After vacuuming, if your dog beds need a deeper clean, the next move is to remove their covers. Opting for a dog bed with a removable cover, like The Brooklyn's Ultra Memory Foam Dog Bed, makes this step a breeze. Simply unzip the cover and toss it in the washer for a thorough wash. This ensures not only a fresh-smelling bed but also a convenient way to keep your pup's favourite spot spotless.
Wash the Cover 
For effective washing of your dog bed cover, follow these essential steps:
Check care instructions: Begin by examining the care label for any specific washing instructions, including water temperature recommendations and special care tips.
Use pet-safe detergent: Use a pet-safe detergent to prevent skin irritation. Avoid harsh chemicals or strongly scented detergents.
Secure fastenings: Before washing, ensure all zippers are closed to prevent snags or damage.
Separate washing: If possible, wash the cover separately or with similar colours to prevent colour bleeding or lint transfer.
Check water temperature: Choose a cold or lukewarm water setting to prevent shrinkage and maintain fabric quality.
Drying: Ideally, air dry the cover. If using a dryer, opt for the lowest heat setting to avoid damage and shrinkage.
How Often Should I Wash My Dog's Bed? 
So, how often should I wash my dog's bed? Well, we recommend aiming to wash the cover every 2 to 3 weeks, or more frequently if your pup is particularly messy or prone to shedding. On top of that, you should regularly vacuum the bed to remove loose dirt and hair. Use a removable cover for easy washing. Additionally, wash your dog's toys and bedding along with the bed cover to maintain a fresh and odour-free pet-friendly space. This routine helps ensure a healthy environment for both you and your furry companion.
Check Out Our Orthopaedic and Machine Washable Memory Foam Dog Bed!
For washable dog beds in Singapore, you can't go past our Ultra Memory Foam Dog Bed. With its machine-washable covers and Joint Supporting Memory Foam, it's the perfect blend of convenience and durability. Treat your doggo to the best in comfort and cleanliness - explore The Brooklyn today!
---